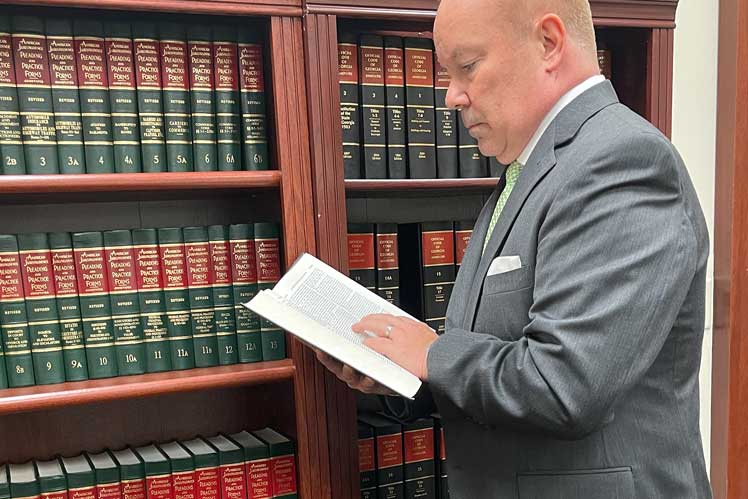 Army Veteran. Court Veteran.
Faithfully Serving Carroll County.
From serving our country to now serving as the Chief Judge of the State Court of Carroll County, Judge Michael Hubbard is no stranger to service. It has been the mission of his life, and he is proud to continue that mission by faithfully serving the people of Carroll County every day on the bench.
Judge Hubbard never set out in life seeking titles, political positions, or the limelight, and he still doesn't. He is a simple man who comes from humble, blue-collar beginnings. Although it can be difficult to move up from such humble beginnings, through hard work, service, and perseverance, he proved it can be done. He joined the U.S. Army and Georgia Army National Guard where he was a member of the 48th Brigade and 24th Infantry Division. He went on to become the first member of his family to graduate college before going on to earn his law degree.
Judge Hubbard has taken the lessons he learned from those humble beginnings and in his time serving our country to the bench as Judge. He is a Judge who cares for those who appear before him in the courtroom. He puts himself in their position, and while he follows and applies the law in every case, he does so through thoughtful decision-making and not rash decisions. He treats people with fairness and respect, even when the law requires him to hand down hard sentences. He strives to make the right decisions consistent with the law, even if the decision is in conflict with his personal beliefs.
Judge Hubbard's legal experience and service to Carroll County spans decades. He spent 20 years serving the people of Carroll County in the trenches as a dedicated, hardworking trial attorney in both civil and criminal cases. Because of his reputation for hard work, experience, and fairness, he was appointed as the Chief Judge of the Villa Rica Municipal Court with the backing of both law enforcement and the local criminal defense bar, where he served for six years.
Judge Hubbard was then appointed to serve as the Chief Magistrate Judge of Carroll County where he immediately went to work to clear up a backlog of pending cases stalled because of the COVID-19 pandemic. The back log was cleared in less than 90 days and remained that way throughout his time on the Bench. This accomplishment did not go unnoticed.
On March 1, 2023, Governor Brian Kemp appointed Judge Hubbard as the new Chief Judge of the State Court of Carroll County. Judge Hubbard immediately began working on the Covid backlog as well and has made great progress. He's committed to resolving the backlog completely.
Through the years, Judge Hubbard has earned a reputation of relentless hard work. He has never forgotten those lessons learned at boot camp. Because of that reputation and his commitment to the law, he was entrusted by our Chief Superior Court Judge to serve as a Superior Court Judge Pro-Tem soon after being appointed as the Chief Magistrate Judge and again as the Chief State Court Judge. In this role, Judge Hubbard assists in Superior Court by presiding over felony cases, divorce cases, large civil cases, and real estate disputes. However, his first and foremost responsibility remains presiding over State Court.
Judge Hubbard isn't a politician. While some enjoy the spotlight, he is simply focused on his mission of faithfully serving the people of Carroll County as Judge. He understands he has an important job to do, and that is what he does. He works hard, gets the job done, and then he goes home to spend time with his wife Karen and their two dogs Rocky and Kona. He's a sports fan, an outdoorsman, and he's been known to grill a good steak.
With his well-earned track record of hard work, thoughtful decision-making, adherence to the law, fairness, and doing the right thing, Carroll County needs Michael Hubbard to continue as our State Court Judge. Vote to keep Michael Hubbard on the Bench to he can continue his mission of serving us.

DONATE TO KEEP judge hubbard
Sign up for more information